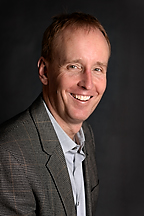 Dr. Darren Kerr MD, FRCSC
Chief, Division of Orthopaedics
Arthritis Care and Arthroplasty, Lower Extremity Reconstruction, and Orthopaedic Surgery
Dr. Kerr graduated from Dalhousie University Medical School in 1994 and successfully completed his Orthopaedic Surgery residency training at Queen's University, Kingston, ON in 1999.
After completing a fellowship in Adult Reconstruction and Trauma at Queen's University in 2000, he then completed a second one-year fellowship in Total Joint Arthroplasty at Harvard University in Boston, MA at the Brigham and Women's Hospital under the mentorship of Drs. Thomas Thornhill and Richard Scott. He accepted a position within the Department of Orthopaedic Surgery in Saint John in 2001 and currently holds the following academic appointments:
Assistant Professor, Department of Surgery, Faculty of Medicine, Dalhousie University
Clinical Assistant Professor, Discipline of Surgery, Faculty of Medicine, Memorial University of Newfoundland
Dr. Kerr contributes extensive knowledge and expertise in the surgical management of arthritic joints, lower extremity reconstructive surgery and trauma, as well as diseases and degenerative conditions of the foot and ankle. He is actively involved in teaching orthopaedic surgery residents, postgraduate family medicine and emergency medicine residents, and undergraduate medical students.
Dr. Kerr is married, with three children. He is a minor hockey coach in the Kennebecasis Valley and enjoys golf, competitive squash, and skiing.
Back to surgeons