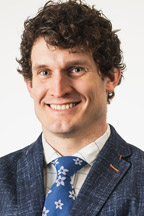 Dr. Brendan Sheehan, MD, FRCSC
Sports Medicine and Orthopaedic Surgery
Dr. Sheehan was born and raised in Saint John, NB. After completing a Bachelor of Science at the University of New Brunswick, he went on to obtain his medical degree from Memorial University in St. John's, Newfoundland. He then completed his Orthopaedic residency training at the University of Calgary.

He completed subspecialty training in Orthopaedic Sports Medicine at the University of British Columbia in Vancouver, under the mentorship of Drs. Robert McCormack and Farhad Moola. During his time in Vancouver he developped expertise in arthroscopic and open reconstructive surgery of the knee and shoulder. He also solidified his skills in the treatment of the injured athlete as one of the team physicians for the BC Lions, Vancouver Whitecaps, Canada Games, Karate Canada, and Simon Fraser University.

Dr. Sheehan accepted a position in the Department of Orthopaedic Surgery in Saint John in September 2015. The focus of his practice is orthopaedic sports medicine, knee and shoulder surgery.
Back to surgeons